Grand Champion Daywalker Sacajawea (German Import)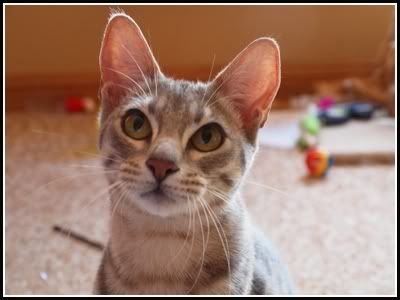 Pet name: Charlotte
Colour: Blue spotted (OCI a 24
)
Dam:

FIFE International Champion Aalspotz Lady Blue (blue spotted OCI a 24)
Sire:
FIFE Supreme Champion Bibbi Goobita Yangati (lilac spotted OCI c 24)
Date of birth:

February 9 2011
Pedigree:
click here
Charlotte has tested PRA N/N - Normal, cat does not have PRA mutation
Charlotte has tested PK-Def N/N - no copies of PK deficiency, cat is normal
Charlotte has tested negative for Tritrichomonas Foetus.
Charlotte is a blue spotted Ocicat carrying Cinnamon from Daywalker cattery in Germany, we are very thankful to Alexandra for trusting us with this special girl. Charlotte is a gorgeous shade of blue and we are very excited to have her in our breeding program.
Charlotte is a very confident, friendly girl who purrs almost non stop. She loves playing fetch and will happily retrieve certain toys, chasing and bringing them back to us.