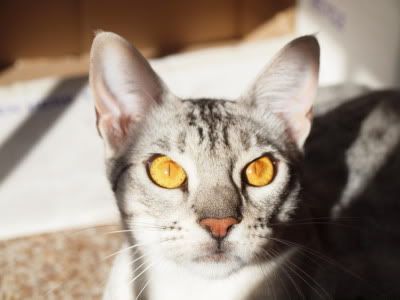 Dam:

Ozspots Oci Iris Ella (chocolate spotted silver)


Sire:

Double Grand Champion Abyrose Kiwi Magic (Import NZ)(black spotted silver)


Birth date:

February 5, 2009


Pedigree:
click here
Malika has tested PRA N/N - Normal, cat does not have PRA mutation
Malika has tested PK-Def N/N - no copies of PK deficiency, cat is normal
Malika is a black spotted silver Ocicat and may carry Ivory. Malika is our first breeding queen, she is a gorgeous girl with excellent contrast, no tarnishing and stunning golden eyes. Her coat is so silky, she almost slips through your hands. Malika had a successful show career as a kitten but quickly decided as an adult that it's not for her, she would rather stay home and raise babies than be a show girl. Malika placed in the top 10 of the ACF 2009 National show in Adelaide, National shows are held once a year and over 400 cats are exhibited.